4 Ways To Maximize Efficency in your Dental Remodel
Posted by HJT Design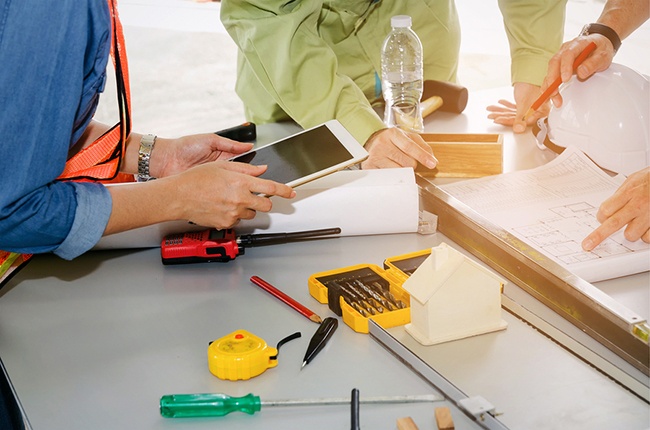 Making sure that your dental practice runs efficiently is extremely important to your bottom line as well as to your overall reputation. Poor efficiency can not only make it difficult to get things done, it can also cause your staff to get frustrated.
Not to mention that a lack of efficiency can make you run behind, which can leave patients waiting much longer than they should in your waiting room. Fortunately, there are a lot of ways that you can improve the efficiency of your practice, especially if you decide to remodel. The following are four ways that a practice remodel can help to improve efficiency:
1. Increase the space of the reception area
The reception area is one of the key factors in making sure that your practice runs efficiently. First of all, it should be near the front entrance, so that patients know exactly where they should go. It should overlook the patient waiting area so that your receptionists can easily call up patients.
Additionally, you'll want to make sure it doesn't feel cramped, especially if you have several receptionists working at any given time. This will only make work less enjoyable for them, especially if they keep getting in each other's way, which will affect their productivity.
Also, make sure that they have plenty of space for all of the equipment and storage that they need. They should have access to everything that they need within their reception area. If there's so little space in the area that you need to put file cabinets up across the hallway, this will require that they leave the receptionist area to put documents away or to retrieve documents, which hurts their efficiency. You may need to extend the receptionist area if this is the case or at least install more storage solutions.
2. Take into account the flow of traffic
The last thing you'll want is for traffic to bottleneck at certain areas. It's why your patient waiting area should be by the front door. You won't want patients walking through treatment areas to reach the waiting room because this will cause the hallways to become congested. Additionally, if you decide to build a common area for your staff, make sure that it's not situated between the treatment rooms or area and the patient room.
3. Consider an open treatment area design
If you're working with limited space, you might want to forego having separate treatment rooms and design an open treatment area instead. You can separate the space using cabinets to provide patients with privacy. Such an open design will make it easier for dentists and their assistants to move from one patient to another. Additionally, this will allow certain treatment spaces to share dental equipment instead of having to invest in the same piece of equipment for each room.
4. Keep future needs in mind
You'll want to make sure that you have some space available so that you have room for new equipment that you may buy in the future. The last thing you want is to bring in new equipment that causes problems with the flow of traffic due to a lack of space.
Improve Effciency
These are four ways that you can improve the efficiency of your practice through a remodel. Remodeling your practice can not only help to improve efficiency, it can greatly improve the aesthetic of your practice and make your office environment more enjoyable and less stressful for your staff. For more advice on remodeling your dental practice, be sure to contact us at HJT Dental Design Consultantsto schedule a consultation today.